All Member Meeting 18 Nov 2023 at Casa Mia in Berlin CT
First Group of Connecticut Sons of Liberty Pledge Donors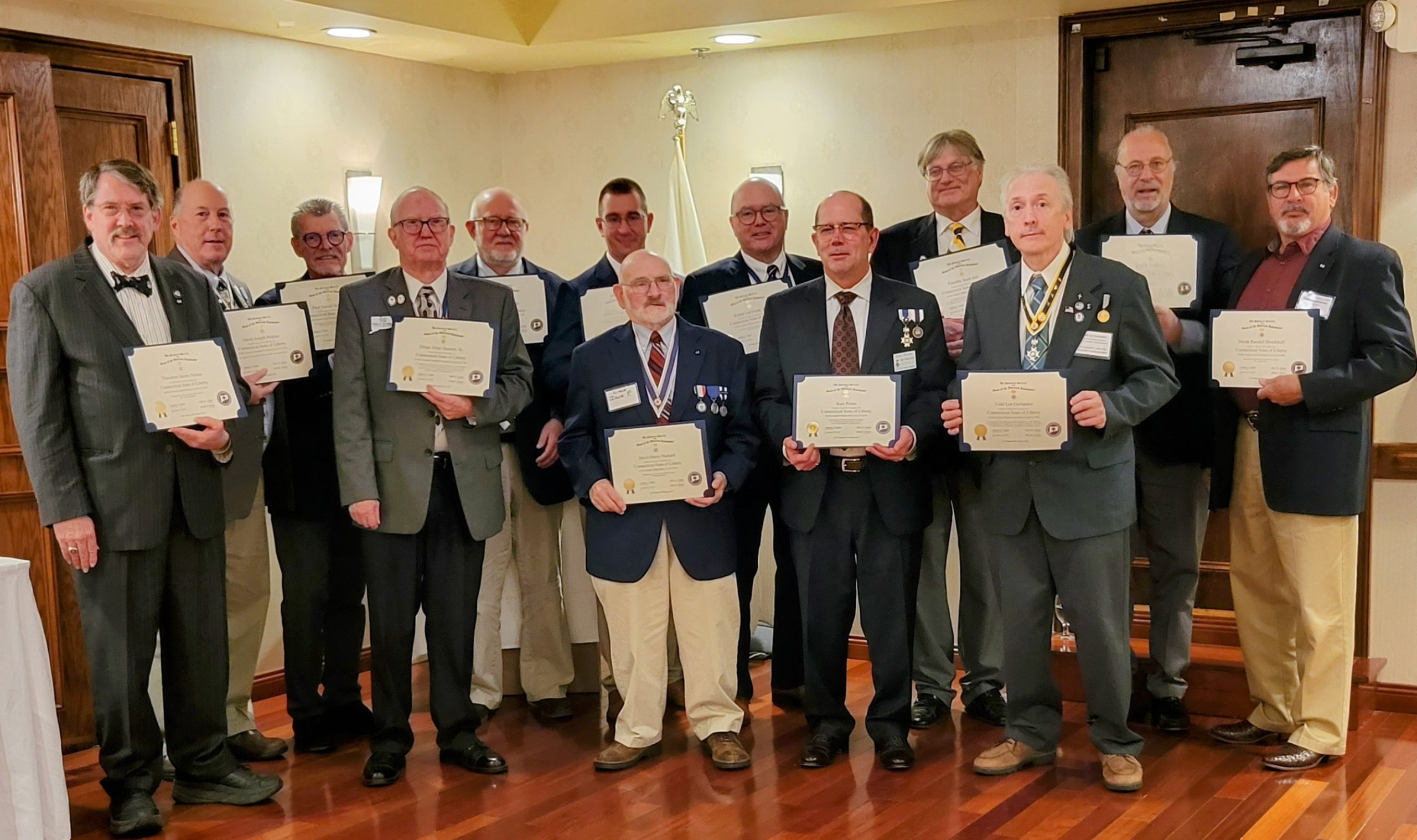 The meeting was attended by 42 members and guests, who represented all 8 branches from across the state society. Ken Buckbee received the Silver Liberty medal for being the 1st Line Signer on more than 100 new SAR applications. CTDAR Sarah Fergione was presented with the SAR/DAR Medal of Appreciation for referring three new members to the CTSAR. Todd Gerlander spoke on upcoming 250th events that the CTSAR could help plan and participate in. David Wold of the Capt. Matthew Mead Branch was given an SAR certificate of Appreciation for work in presenting Flags Award certificates and other activity on behalf of his branch over the past three years.  National Ladies Auxiliary SAR President Pat Perkins was presented with the Sam Adam's Congress Appreciation Award for her exemplarily work as a volunteer at the 2023 Florida Congress. Capt. Nathan Hale Branch Secretary Dayne Rugh was our guest speaker and spoke on the life and times of patriot Col. John Durkee of Norwich.
Photos below courtesy of Barbara Stewart, see link for additional photos: Nov 18 Meeting Photos
State Historian Gary Pitcock has also shared a link with his photos from Saturday: State Historian Photo Link
——————————————————————————————————————–
Bell Donation at East Haddam Schoolhouse – Sept 9, 2023
Real Property Stewart Dave Packard and State Historian Gary Pitcock met with the Case Family (Gary and Mark Case, and Gary's wife) to accept the bell that was purportedly from the schoolhouse prior to its move to its current location around 1900. The Case Family was extremely nice and seemed to really enjoy their time at the schoolhouse. Dave entertained everyone with stories of the schoolhouse and especially the time he was inside with a snake. What started this visit was an email from Mark Case to Gary Pitcock.
"Hi Gary – my name is Mark Case and I live in Naugatuck CT. I am reaching out to you to inquire as to whether or not the Nathan Hale Schoolhouse has a curator or historian I can correspond with regarding an artifact (specifically, a school bell) that is purportedly from the schoolhouse prior to its move around 1900. In sum, as the story in my family goes, my great grandfather who was from East Haddam was part of the crew which moved the Nathan Hale Schoolhouse in the 1900-time frame (I believe it was at some point prior to 1900). Somehow, he ended up with the bell. It has been passed through a number of generations in my family, and I have recently inherited it from my father. I have no documentation supporting this, just family lore which seems to have a level of credibility. In sum, I am not trying to sell the bell; if it is a piece from a time period associated with the schoolhouse and can be considered a period piece of furnishing, I would be interested in donating the bell and returning it to what I feel is its rightful home at the Nathan Hale Schoolhouse." The bell is now in the archives at the Nathan Hale Schoolhouse in New London.
——————————————————————————————————————–
SAR Americanism Poster Contest Winners for 2023
Southwest Elementary School Torrington
The Gov. Oliver Wolcott, Sr. Branch sponsored the contest and presented the 5th grade winners with certificates and cash awards on June 12 by Branch President Mike Bird, while at the school for the annual Culper Spy Ring event. 
Taking part in the Culper Spy Ring (left to right) Dave Perkins, Pat Perkins, Mike Bird, Sandy Booth and Mike Miller.
—————————————————————————
Winner of the 2021 Literary Awards Contest
Genealogical Resource Category

The Restoration of the Christ Episcopal Church Cemetery
in Stratford, Ct,
the Resting Place of Our Founding Father William Samuel Johnson
by Ethan & Barbara Stewart
Ethan and Barbara Stewart are members of the Sons and Daughters of the American Revolution (SAR) and (DAR). Ethan is a member of the General David Humphreys Branch #1, which is in New Haven County, Connecticut. Ethan is the past President of the Connecticut Society of the SAR and Secretary of David Humphreys Branch. He is currently the Connecticut State Registrar.
Barbara is a member and the current Regent of Freelove Baldwin Stow Chapter in Milford, Connecticut. Barbara is also chairperson for the Wreaths Across America Ceremony that is held at Kings Highway Cemetery in Milford every December.
Their Societies are non-profit organizations. The objects of their Societies is to perpetuate the memory and the spirit of the men and woman who achieved American Independence; to promote the development of an enlightened public opinion; and to foster patriotic citizenship and the preservation of our history.
The revitalization of this 1723 historic cemetery was a challenge. With great enthusiasm they were able to restore the cemetery so that people could see and understand the history of this historic cemetery.
The cemetery includes their Founding Father William Samuel Johnson, 20 Revolutionary Patriots, one Privateer and nine Patriots from the War of 1812.
Connecticut Genealogy News © Winter 2021-2022, www.csginc.org. (860) 569-0002
General David Wooster & Rev. Ebenezer Baldwin
Grave Markings – September 18, 2021
Both Patriots Died in Service to their Country 
On Saturday September 18 at Wooster Cemetery in Danbury, the Connecticut Line and several members of the Rev. Ebenezer Baldwin Branch No. 9 participated in two grave markings. The event was sponsored by the local Masonic Lodge and the DAR Mary Wooster Chapter. The first was for Gen. David Wooster was mortally wounded in the Battle of Ridgefield in April 1777. The second was for the Rev. Ebenezer Baldwin who died upon his return from the Battle of New York in late September 1776.  Chaplain Baldwin served with the Militia units from Danbury who fought during the defense of New York.  Administering to the soldiers that were extremely sick with disease, an illness that eventually Rev. Baldwin died from on October 1, 1776.                                                                            Pictures from the Wooster/Baldwin Grave markings
Ezra Lee  Grave Marking – September 5, 2021
"Pilot of the Turtle"
On Sunday September 5, State President Stephen Taylor led the Connecticut Line and members of the Capt. Nathan Hale Branch No. 6 in a grave marking of patriot Ezra Lee. Who was the pilot of the "Turtle" which launched the first attack by a submersible on a British warship in New York Harbor.  Following the grave marking, New member James Harrington with family members present was sworn in as a member of the SAR and Branch  No. 6.  In addition, Young Marine Sgt. Ryan Spring was presented with the Bronze Good Citizenship Medal with Ribbon Bar for his performance as a Young Marine in the Brass City unit.
Later that day the Connecticut Line along with other members of the CT SAR participated in a grave marking of 4 patriots at the Col. Ledyard Cemetery in Groton.  After the grave marking the final event of the day was 240th Anniversary of the Battle of Groton Heights which concludes with a 3-volley musket salute from the raised platform overlooking the Thames River.
Pictures for Ezra Lee Grave Marking and 240th Anniversary of the Battle of Groton Heights
Nero Hawley Grave Marking – June 19, 2021
On Saturday June 19 in Trumbull, the General David Humphreys Branch No. 1 gathered to carry out a Patriot Grave Marking Ceremony to recognize and honor five Revolutionary War Patriots who are buried at Riverside Cemetery. One of the patriots, Nero Hawley, helped to establish this burial ground in 1807, and the historic cemetery is now part of The Freedom Trail. Nero, an African American slave, served during the war, including at Valley Forge. Also honored were three brothers who served: Captain David Nichols, Nathan Nichols, Jr., and James Nichols. Lastly, we honored Sargent Lewis J. Burton. More than 50 people gathered for the event including members of the Nero Hawley family.
Tom Callinan – Past State Troubadour: Ballard of Nero Hawley
Photos by Barbara Stewart: https://photos.app.goo.gl/dM97qvWEgXWcdWLg8
Photos by Richard Kendall: https://photos.app.goo.gl/gRsyzBX6yXVnrM189
246th Anniversary of the Battle of Bunker Hill

June 17th – The 246th Anniversary of the Battle of Bunker Hill was represented with 9 members of the Connecticut Line.  Colonel Dave Perkins, 1st Sgt Dan Dudley, Derek Brockhoff, Fred Rivard, Todd Unkefer, Dennis Walsh – NH, Paul Ford – NH, Russell Cumbee – NH and Richard Wright – NH
.
VPG Elect Bob Walsh was also in attendance.
.
Following the memorial service at St. Francis de Salas, we participated with members of the Massachusetts SAR Color Guard in a parade to and ceremonies at the Bunker Hill Monument Park acknowledging the Battle of Bunker Hill (Breed's Hill) during the early stages of the American Revolution. Following the usual speakers and music as in years past we gave a 3 volley musket salute under command of Chris Tourtellot, MASSAR Color Guard Commander.
.
History nearly repeats itself!!!
.
As in 1775, a lack of black powder nearly caused a problem once again as NPS did not have enough rolled cartridges due to not ordering powder in advance. NPS did allow us to retrieve our own cartridges if we had any, but only if it was 2F grade.  Present it to them for inspection and collection for distribution. At the end there was only 1 extra cartridge not given out by NPS.
.
Below you will find a link that will take you to a slideshow of photos from this event. Photos courtesy of Lydia Cumbee
———————————————————————————————————————————
129th Annual State Meeting
at the 1st Company Governor's Footguard Armory
in Hartford

On Saturday, Stephen Z. Taylor was sworn in has the newest state president of the Connecticut SAR. President-General John T. "Jack" Manning and his lovely wife Shelia were our guests.  PG Manning gave the oath of office to all new state officers present. Outgoing State Secretary Paul Selnau was awarded the Patriot medal by outgoing State President Damien Cregeau.  Compatriot Cregeau was elected to fill the open position of State Secretary and received the Meritorious Service medal for his 3-years as State President.
Following the business meeting, elections and luncheon. Youth award recipients for Knight Essay, Eagle Scout, JROTC and our newest youth contest, Rumbaugh Orations were presented with their medals, certificates and monetary awards following the reading of their essays or orations speech.
Special thanks goes out to the 1st Company Governor's Footguard for the use of the Armory and to Compatriot & Footguard member Todd Unkefer who made these arrangements and also catered the event.
Photo albums from Saturday.
Photos courtesy of Rich Kendall: https://photos.app.goo.gl/818ak3F22gorhbJo6
Photos courtesy of Lydia Cumbee: https://photos.app.goo.gl/hDAd9MbUdoR9DauL6
Photos courtesy of Barbara Stewart: https://photos.app.goo.gl/StuBhAvK2nP1f163A
Connecticut SAR Member Creates New National Logo
State President Damien Cregeau presented a check for $5,000 from NSSAR to Compatriot Stephen Harrington of the Rev. Ebenezer Baldwin Branch No.9 at the State All-Member Meeting in Hartford in November 2020 for his successful creation of the new SAR national logo (shown at left). New logo merchandise can be found at the following link:  https://store.sar.org/2021-sar-logo-c51.aspx
——————————————————————————————————————————————
Joseph S. Rumbaugh Historical Oration Contest
The Connecticut Society of the Sons of the American Revolution (SAR) is excited to announce that this contest is open to all high school students (9th through 12th grades) interested in the American Revolution. The contest is for all students attending public, parochial, private or home school students in that same grade range. The preliminary rounds of the contest begin at the local level, students may potentially advance to the state or national levels where scholarships and cash prizes are awarded.
Each student's five-to-six-minute speech (and accompanying manuscript) will be judged based upon its composition, delivery, significance, and historical accuracy and relevance.
The Connecticut Society award for 1st Place is $500 cash and an Olympic-sized medal.
At the National level:
First Place Winner receives $6,000; the 2nd Place Runner-up receives $4,000; and the 3rd Place Runner-up receives $2,000 cash prize. Each also receives an Olympic-sized medal. All other finalists (4th through 6th Place runners-up) are awarded $500 cash and all other national contestants are awarded $200 cash.
An informational flyer and the contest forms can be found at our national website link below.
Joseph S. Rumbaugh Historical Oration Contest – National Society Sons of the American Revolution (sar.org)
The state application deadline is March 31st, all judging will take place during April either in-person or virtually due to Covid concerns.  All interested applicants should reach out to the local SAR contact listed below for further details.
Primary Contact for Connecticut Entries:
Mr. David J. Perkins
NSSAR Joseph S. Rumbaugh Historical Oration State Chairman
Email: DPerkins8@att.net
———————————————————————————————————————————————-
On Veterans Day 2020, five members of the Capt. Nathan Hale Branch No. 6 honored the final resting place of Patriot David Dart in Waterford, CT. In uniform were Fred Rivard, James Rothgeb, and Tyler Smith with Stephen Taylor and David Jones of the Hale Branch also in attendance.

——————————————————————————————————————————————–
Grave Marking and Plaque Dedication in Derby of 54 Patriots Derby – Oct 17th, 2020
General David Humphreys Branch #1 convened a Grave Marking Ceremony Honoring 54 Revolutionary War Patriots at the Old Uptown Burial Ground in Derby, CT on Saturday with over 65 people attended on a sunny fall morning.
The program included a Posting of the Colors by the Connecticut Line.  Opening remarks were made by  Ethan Stewart, Sr. Branch President.  The CT-SAR 1st Vice President Stephen Taylor provided greetings from the State Society.  Although he could not attend, a Proclamation was read and received by the Mayor of Derby, CT Richard Dziekan.  Greetings from the DAR were given by Connecticut State Regent Christy Hendrie.
To read the full article and see photos, please click on the link below.
Full Article, Photos Albums and Legacy Song
Event Program
239th Anniversary of the Battle of Groton Heights
On Sunday September 6th, the 16 members of the Connecticut Line, along with members of the Capt. Nathan Hale Branch No. 6 commemorated the 239th anniversary of the battle with a grave marking ceremony at the Colonel Ledyard cemetery where we honored Col. Ledyard and installed new SAR grave markers near the headstones of five other patriots and followed by a 3-volley musket salute by 13 members of the Connecticut Line to honor these men.
Grave Marking at the Col. Ledyard Cemetery:
Following the grave marking, there was a shorter version of the usual ceremony inside Ft. Griswold.  In attendance at both events was New England District President Bob Walsh of the NH-SAR.  After walking the grounds of the fort the ceremony commenced with the reading of the names of the 88 defenders who died.  Capt. Nathan Hale Branch President Stephen Taylor along with NED President Bob Walsh placed a wreath at the site of Col. Ledyard's death inside the fort at the hands of the British officer who captured the fort following its surrender.  The ceremony ended with 3-volley salute from the raised platform on the south-east earthen wall facing the Thames River and New London.
239th Anniversary of Battle of Groton Heights:
Eagle Scout Awards and New Member Swearing-In Event
On Sunday July 26 at Putnam State Park in Redding – Two Eagle Scouts were recognized for participating in the SAR Eagle Scout Contest this year. They were Stephen Zigmond of Troop 15 in Redding and Spencer Carlson of Troop 76 in Ridgefield.  In addition, Steve Leavy of South Salem was sworn-in as a new member of the SAR in the Rev. Baldwin Branch No. 9 and presented with his membership rosette.
Independence Day in Connecticut 2020
The Connecticut Line, CTSSAR Color Guard Living History Unit celebrating Independence Day 2020 by marking the graves of 5 Patriots in Crary Cemetery, Groton CT. In a addition, the SAR Military Service Medal was presented to Compatriot Alexander Metz by the Hale Branch President, Stephen Taylor. Huzzah!


American Revolutionary Patriots Honored: Capt. Daniel Hubbard Burrows, Jr.; Capt. Nathan Crary, Jr.; John Babcock; Sergeant Daniel Eldredge/Eldridge; and William Holdredge.
Photographs by Adele Bausor and Sean Walsh
Eagle Scout Presentations and Grave Marking Ceremony for Major General Joseph Spencer at the Nathan Hale Schoolhouse in East Haddam by the Captain Nathan Hale Branch No.6 – Saturday June 06, 2020
On Saturday the Captain Nathan Hale Branch No. 6 hosted two Eagle Scout Presentations and performed a Patriot Grave Marking ceremony honoring Major General Joseph Spencer who is buried on the Nathan Hale Schoolhouse property overlooking the Connecticut River in East Haddam.  The Eagle Scout presentations were arranged by State Eagle Scout Chairman, Tim Wilkins and Branch President Stephen Taylor.  Leading the grave marking ceremony was Major Tyler Smith, along with Jim Rothgeb and Real Property Steward, Dave Packard.  The Connecticut Line under the Command of Col. Dave Perkins provided a 3-volley musket salute.  Following the Eagle Scout presentations and the Patriot Grave Marking, 2nd VP Tim Wilkins was awarded his Patriot Grave Marking medal for his involvement in state grave markings over the past four years.  Following the event, Past State President Ethan Stewart showed off the newest state challenge coin for the 240th anniversary of the Washington-Rochambeau Revolutionary Route 1780-1782.
Photo Gallery was provided by Barbara Stewart, DAR: https://photos.app.goo.gl/2ve6AHYwvDydpyL39
Real Property Committee Meeting – 06 June 2020
Following the ceremonies, the committee met to review plans for 2020 outside the schoolhouse under one of white oaks.  L to R: Jim Rothgeb, Stephen Taylor, Real Property Steward Dave Packard, Josh Taylor, and in coming State Treasurer Ted Nelson.
News and Events from 2019 and before… News and Events from 2019 and before